About the Product
Indulge in this amazing Holistic Healing Way of soaking feet in Foot Salt which is one of the best home treatment for muscle relief, relieves aches, burning feet sensations, repairs dry & cracked heels and leave the feet smelling fresh and clear.
Ingredients
Himalayan Pink Salt, Dead Sea Salt and therapeutic Essential Oils that leaves the feet fresh, soft and clean.
Himalayan Pink Salt is natural and light pink in color. Its packed with more than 81+ essential minerals. Due to its antiseptic properties it helps in drawing out toxins from the body leaving the skin soft and free from any infection. The magnesium and calcium present in the salt is aid to balance electrolytes, prevent muscle cramping, improving blood circulation and relaxing the stiff muscles.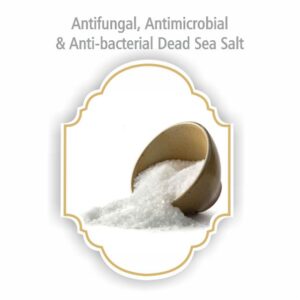 Dead Sea Salt is the most effective used natural ingredient since ages which is rich in minerals like bromide, iodine, sodium, potassium that do good to skin. Aura Ritual Foot Salt is designed to get rid of toxins of the body and helps in the boosting blood circulation. It's a great natural exfoliator which leaves the skin after foot soak soft and smooth.
Aura Rituals Foot Salt had blend of essential oils like Peppermint, Ginger, Lemon Grass, Clove Oil etc that works quickly to reduce any inflammation and pain. They also helps in leaving the feet softer and smelling fresh and relax.
Therapeutic Healing Benefits
For All Skin Types
De-stress with Aura Rituals Foot Salt
With Essential Oils
Foot Soak for Pain and Cracked Heels
Foot Spa at Home
Exfoliating
Paraben Free
Cruelty Free
Vegan
Handmade
Proudly MADE IN INDIA
Eases Muscle Pain
Himalayan Pink Salt has benefits of 80+ Minerals. Dead Sea Salt improves blood circulation and soothes skin. Adding Aura Rituals Foot Salt in warm water and soaking feet for few minutes helps in relaxing the tired muscles and exfoliating the skin leaving it smooth and soft.
Excellent for senior citizens with tiring muscles, leg cramps, calf muscles pain and sore muscles.