Like Magnet which has a magnetic field around it and its quality is to attract the iron particles, similarly we humans have energy field around us called "Aura" and it's quality is to attract the energy information from our surroundings. Since we are constantly exchanging energies with the people around us, it is very common for our auric field to get weak due to cluttered psychic debris or even picking on other people's negative emotions & energies. As a result, we may feel weak, stressed, anxious, lethargic, and impatient or even develop a negative outlook towards life. Hence, Aura Rituals brings to you the perfect remedy to re-energize your aura, the
Aura Rituals body mists
You may be asking why you need a body mist when there is such a large range of scents to pick from. Body mists are a must-have for anybody searching for positivity and a long-lasting aroma from the time they walk out of the shower in the morning.
Aura Rituals body mist are available in 2 variants, perfect to suit your all day and perfect nighttime aura energizing.
The Aura Holistic Mist helps you clear and purifies your surroundings. Once you use this Aura Holistic Spray your Chakras starts balancing and positive things starts manifesting in your life. Your mind starts becoming peaceful and your body will become lighter. Aura Holistic Spray is a mystical spray that you can adopt in your daily lifestyle with no side effects. Do use Aura Holistic Spray regularly and make your life magical and blissful.
How to use
Aura Holistic Spray is a mist that can be sprayed on the aura. Place the bottle little bit away from your body and spray on your top, middle and bottom or you can also use the circular motion to spray around your aura. Let the sprinkle of this spray cover your entire space. Close your eyes and take a deep breath. Feel the aroma and get instant positive vibes!
For the best outcome
Spray it around your aura & surroundings
Spray it in your house
Spray near your work area/office table
Spray before entering any business meeting.
Spray it while meditating
Spray it before & after your yoga sessions
Spray it before & after doing your pooja rituals
Spray around your pillow for better sleep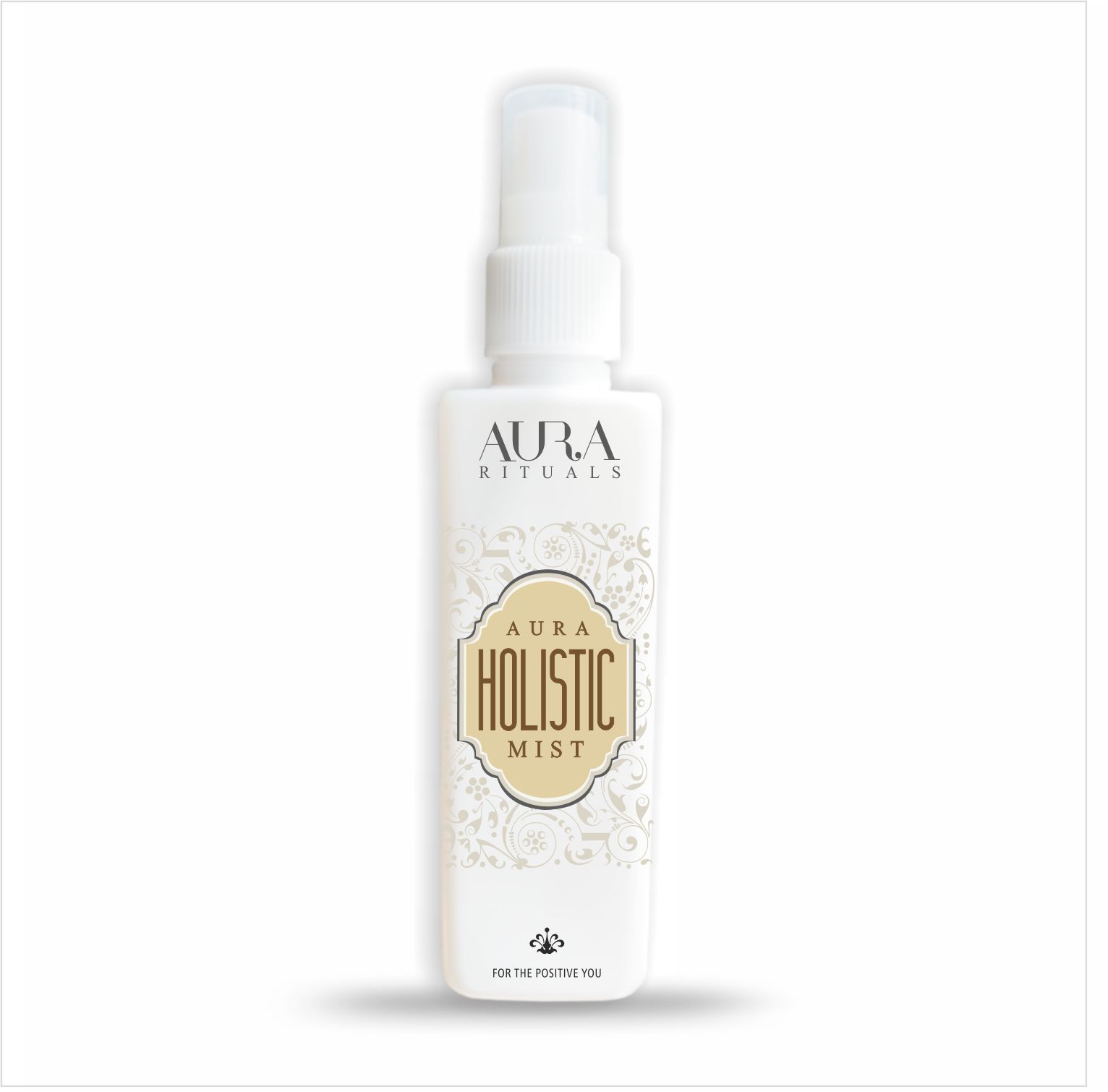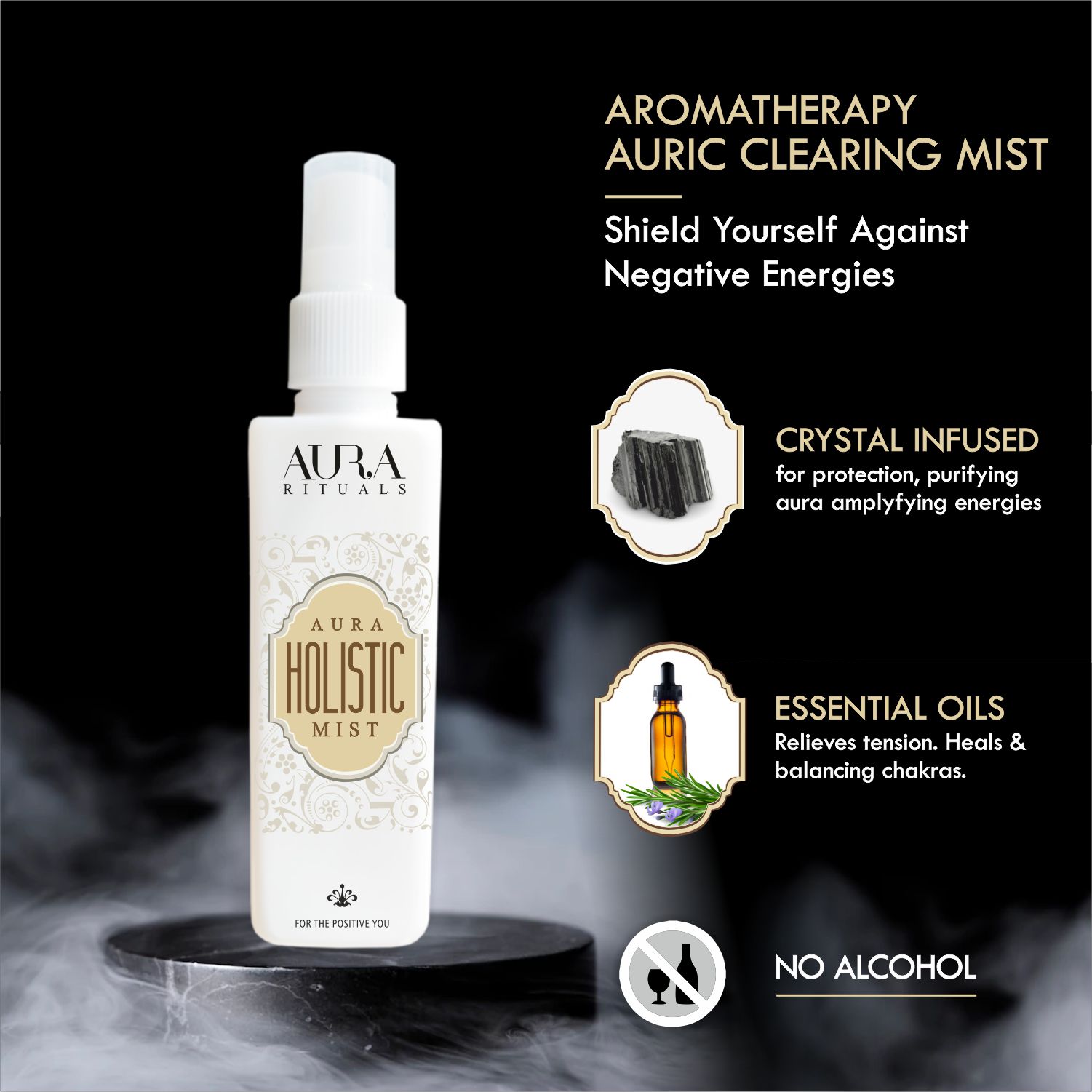 About this item
Aura Mist : Aromatherapy Aura Clearing Mist
Volume : 100 ML
Aromatherapy : Use of Essential Oils for eternal Healing.
Aroma : Exotic & Calming
Essential Oils Blends : The blend of essential oils like Lavender Essential Oil, Basil Oil and other Pure Essential oils helps to remove negativity, relieve stress and restore balance.
Crystal Infused Energies : Aura Holistic Mist is infused with crystals like Black Tourmaline and Clear Quartz that helps in protecting our aura.
No Alcohol
No Synthetic Fragrance
Vegan & Cruelty Free
100% Pure
Natural Ingredients.
Product Description
Why To protect your Aura?
We unknowingly take energies and vibrations of people we come in contact with. Not all of these frequencies are high and positive. They somehow affect our Chakras and make our energies imbalance. These directly or indirectly affect our mind, body and soul leaving us with various illnesses with no solution.
How Aura Holistic Mist Works?
Aura Holistic Mist is an Auric Aromatherapy Mist that has Natural Age-Old ingredients like essential oils and crystals that is used to heal holistically and helps in channelizing our energy levels. When we spray Aura Holistic Mist around our Aura we aromatically uplift our blocked energies by clearing the cluttered frequencies around us. The Aroma in the mist helps to purify the aura by giving a blissful healing scent and crystals helps in disintegrate all the negative energies & blocked chakras. So if you have been tired, stressed or feeling low on energy, all you need to do is to spray the mist around your aura relieve yourself in the easy and best possible way.
Key Benefits
Aura Clearing Spray
Uplifts Mood
Promotes Healing
Embark Serenity
Room Spray for Positive Vibes.
Holistic Benefits
Clear blockages in aura.
Balances Chakra
Soothes and Calms Emotionally & Mentally.
Uplifts Mood.
Gives divine & blissful experience.
Ingredients: 
Aromatherapy Essential Oils & Crystal Infused Mist
Power of Crystals : Black Tourmaline and Clear Quartz
for protection, purifying aura amplyfying Beautiful and divine energies.
Goodness of Aromatic & Therapeutic Essential Oils
This mystical Mist has aroma of Essential Oils like Lavender, Frankincense, Camphor, Basil that helps in purifying the aura radiating positive vibes. It helps in relieving tension, heals & balancing chakras.
0% Zero Alcohol
Natural ingredient base made from flower extracts.
Lighter & softer as no alcohol.
No synthetic & artificial fragrance.
Provides Aromatherapy Experience.
Enhances mood.
Hydrates the skin.
Can be sprinkled multiple times a day.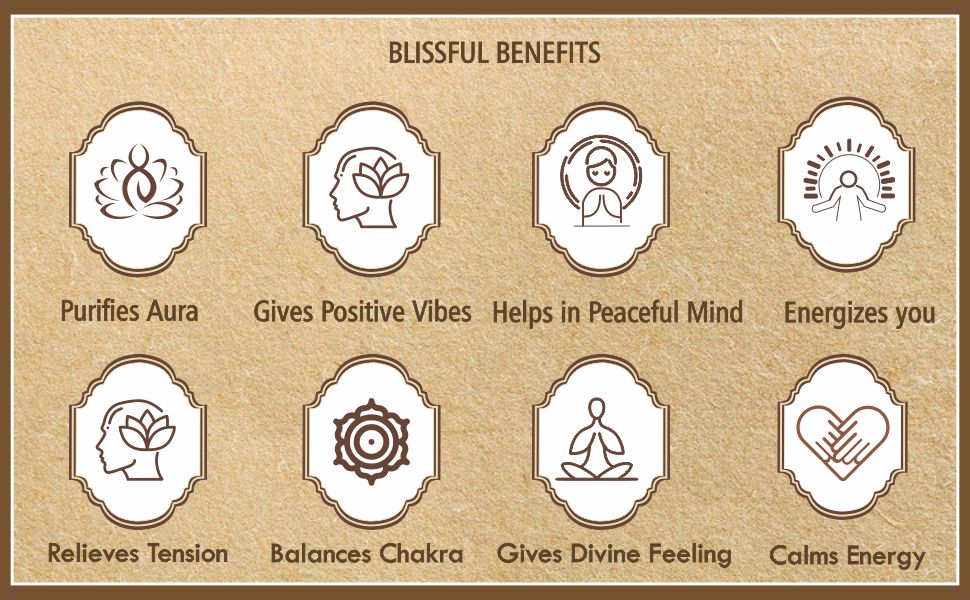 Where to Spray
For Best Outcome
Spray it around your Aura & Surroundings.
Spray it in your house for positive vibrations.
Spray near your office/work area.
Spray before entering any business meeting to soothe your emotions.
Spray while meditating, it helps in balancing your chakra.
Spray it before & after your yoga sessions for blissful experience.
Spray it before & after doing your pooja rituals.
Spray around your pillow for a calm sleep.