Aura Rituals Roll-ons are one of the best ways to keep you energized and scent oneself with blend of purest essential oils enriched with crystals time and again in a single day without harming the skin, with zero wastage and maximum use of scent; these are a true blessing to every scent lover. Aura Rituals takes step ahead and brings to you the goodness of nature, 100% chemical free, long lasting, and soothing scent roll ons for your everyday use. An added blessing, The Aura Rituals holistic roll-ons are available in two variants – Relax and Bliss.
Essential Oil, Aromatherapy benefits
Quick, easy handy
Has very calm & sweet note
Crystal infused- Amethyst Crystal Used(which helps enhancing the immune system, improving endocrine function, improving the skin's appearance, promoting digestive health, reducing headaches, and regulating hormones)
The blend is perfectly made to calm, evokes feelings of peace, well-being, &self-confidence. Promotes relaxation
Balances spiritual life & connects with higher self. If unclear of any situation or feeling lonely this Aura Rituals Relax Roll on is a miracle to use for continuing 21 days.
Balances Crown Chakra & evokes Third eye and intuition power.
Application
Temple area
Wrist
Behind ears
Good for
Meditation
Before Sleep
After tiring day while watching tv or scrolling mobile
To boost up mood & emotions
Good for students sitting for competitive exams
What makes AURA RELAX ROLL ON special
Best for cooling down anger. Hence, the next time you face such a situation, you have a GO TO resort for calming down angry friends, partners, mom, dad or sibling.
Good to reduce stress and do work patiently.
Feels aromatic for a long.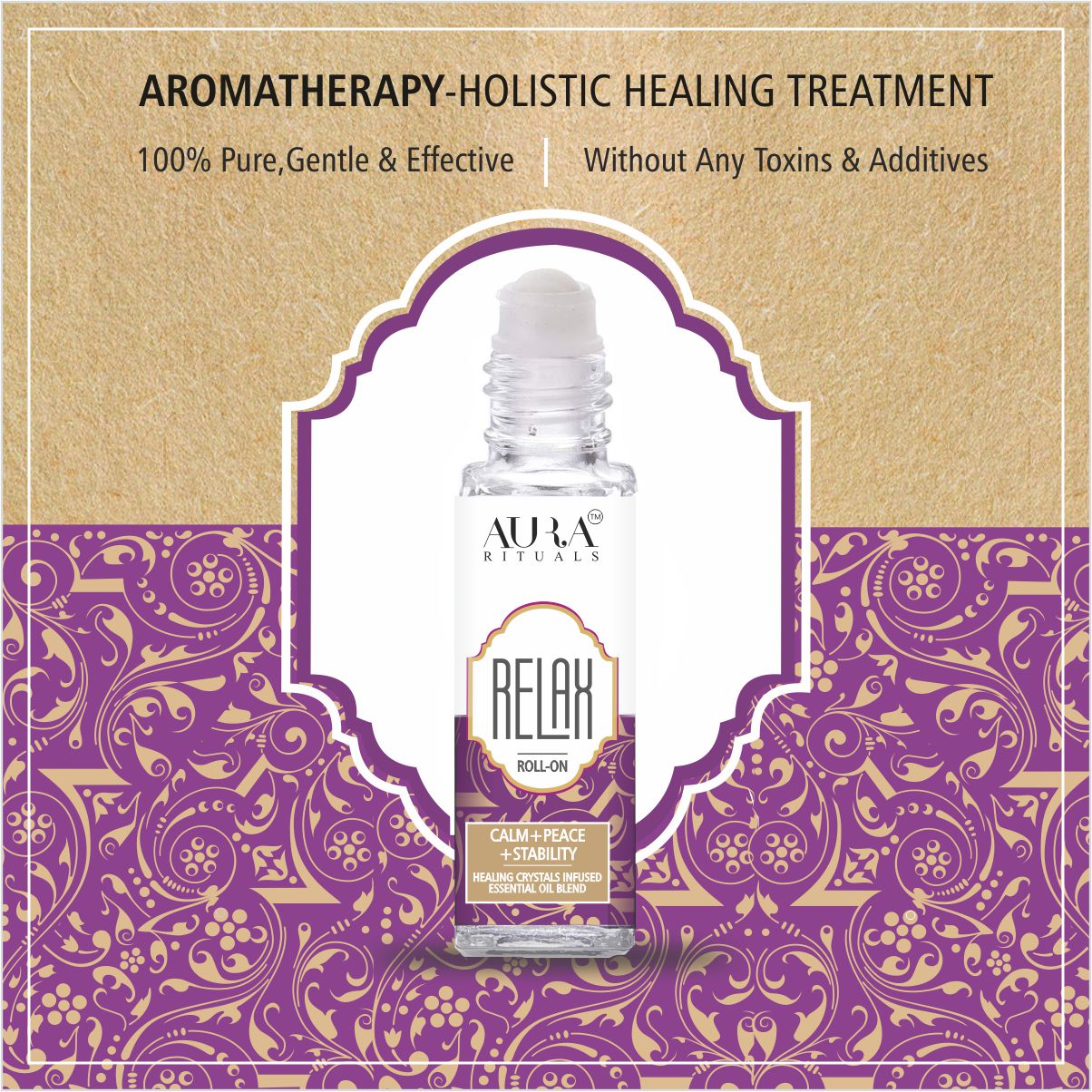 Brand: AURA RITUALS
Net Quantity: 10.0 millilitre
Colour: Clear
Material Feature: NaturaL
Number of Items: 1
About this item
Promotes Sound Sleep – Helps in relaxing mind, balancing emotions & thus promoting calm sleep.
Aromatherapy Product -Use of Essential Oils for Holistic Healing.
Essential Oils Blends – The blend of essential oils infused in glass roll on bottle (mixed with carrier oil) helps in reducing anxious feelings and vibrating beautiful energies by healing scent inhaled.
Amethyst Healing Crystal Benefit – The stone's purple colour is a natural tranquiliser. It helps in calming the cluttered thoughts.
Holistic Wellness –Tunes with the divine by awakening the third eye chakra.
Cobalt Blue Roll On Bottle – Easy to use Glass Roll on Bottle, Quick & Handy, Anywhere-Anytime. Fits in your jean pocket/purse and looks very trendy. Stainless Steel Metal Roller Ball.
100% Pure & Natural Ingredients.
Chemical Free; Cruelty Free
Note: For Topical Application Only.
Key Benefits
Relaxes Mind
Reduce Anxious Feelings
Helps in Better Sleep
Reduce Anger
Relives Headache
Holistic Benefits
Relaxes Mind
Reduce Anxious Feelings
Helps in Better Sleep
Reduce Anger
Relives Headache
Crystals are pretty, mystical and send out an energy that heal, align, transform and can give physical & mental benefits. They harmoniously connect with our body energies to balance our
chakras and emotinal state of mind. Amethyst crystal is purple is color and connects with our Third Eye Chakra by balancing it to calm our mind, makes us relax and helps in promoting sound sleep. This crystal is magical in removing toxins from our body.
Blend of therapeutic Essenrtial Oils like Lavender, Rosemry, Peppermint, Ylang Ylang helps in relaxing the mind and cluttered mind. The aroma of these oils helps